Difficulty

Moderate

Preparation

10 mins

Cooking time

50 mins

Servings

4
6 Tbsp.

Olive oil, plus more for baking dish

1 head

Cauliflower (about 2 pounds), cored, cut into large bite-sized florets

1 lbs

Broccoli florets (about 8 cups)

1 1/2 Cups

Penne (about 5 ounces)

4 oz.

Pancetta, coarsely chopped (about 3/4 cup)

1

Small onion, finely chopped

2

Garlic cloves, finely chopped

1 Tbsp.

Fresh thyme, finely chopped

1 Tbsp.

All-purpose flour

3 C.

1 C.

Very course fresh multigrain breadcrumbs (made in a food processor or blender from 2 slices bread)
Position racks in top third and center of oven and preheat oven to 400°F. Lightly oil a 2-quart baking dish or 4 individual crocks.
On a large baking sheet, toss cauliflower with 2 tablespoons of oil to coat. Season with salt and pepper. Spread evenly on baking sheet. On a second baking sheet, repeat with broccoli florets and 2 more tablespoons of oil.
Bake for 10 minutes. Stir each sheet of vegetables and switch positions of baking sheets from top to bottom. Bake for 10 minutes more, or until vegetables are tinged with brown. Set aside. (Leave oven on.)
Meanwhile, bring a large pot of salted water to a boil over high heat. Add penne and cook, stirring often to prevent pasta from sticking together, for 7 minutes, or until tender but still firm to bite. Drain penne.
Heat a large heavy pot over medium heat. Add 1 tablespoon of oil and pancetta and cook, stirring occasionally, for about 4 minutes, or until pancetta is browned and crisp. Add onions, garlic, and thyme and cook, stirring occasionally, for 2 minutes, or until onions are tender. Sprinkle flour over onion mixture, then stir in flour and cook for about 1 minute, or until it is very pale golden brown.
Gradually whisk in milk. Increase heat to medium-high, and bring to a simmer. Reduce heat to medium-low and simmer, stirring often, for about 4 minutes, or until sauce is lightly thickened and has no raw flour taste. Remove from heat. Season bechamel sauce to taste with salt and pepper.
Add vegetables and penne to bechamel sauce and fold together. Spread evenly in baking dish. In a small bowl, toss bread crumbs and remaining 1 tablespoon oil to coat, then sprinkle over vegetable mixture. Bake for 10 minutes, or until crumbs are golden. Let stand at room temperature for 5 minutes before serving.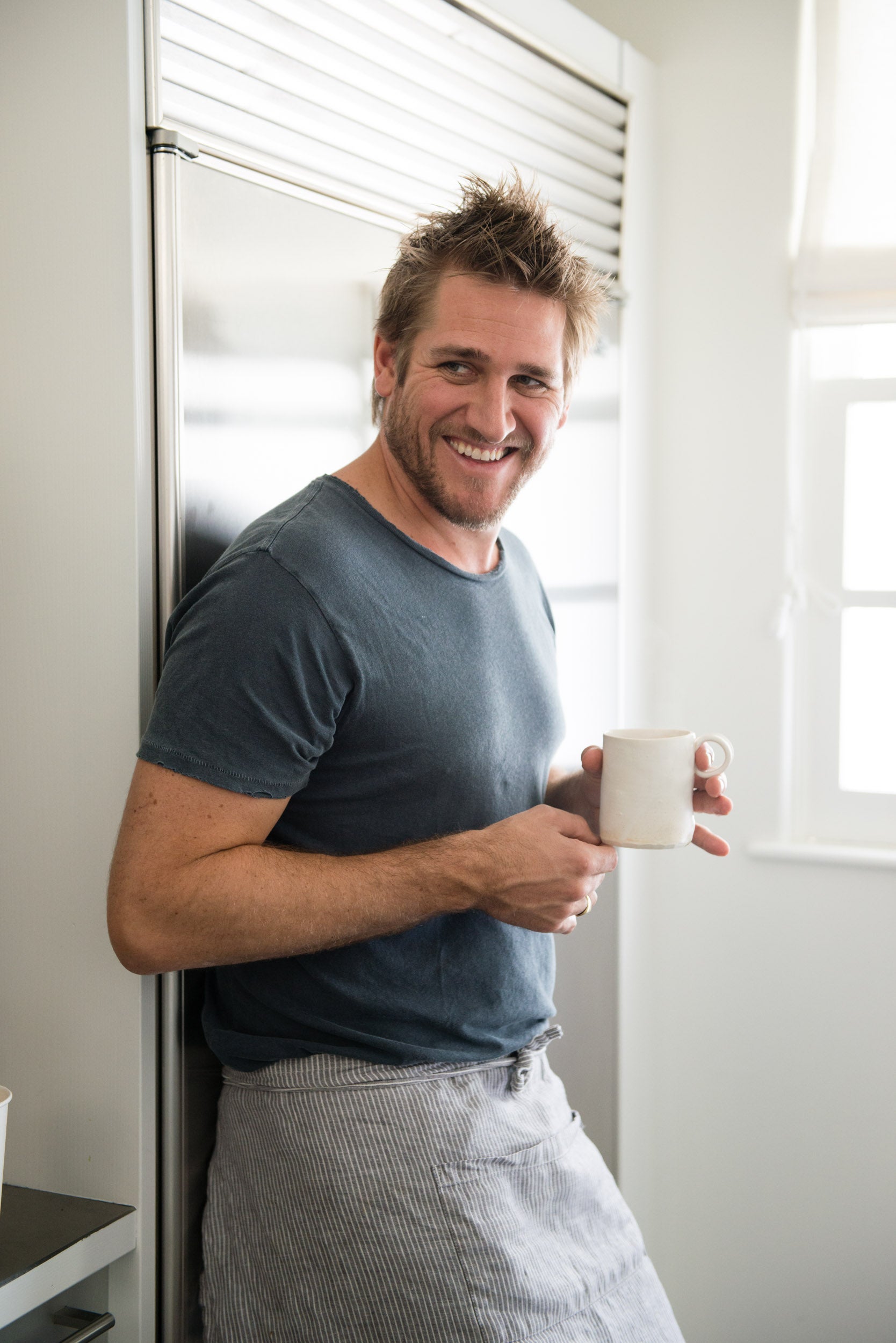 Curtis Stone is a Los Angeles-based Michelin-starred chef, restaurateur, author and culinary entrepreneur. Outside his restaurants, Curtis is widely known for his appearances on television programs such as Take Home Chef (TLC), Top Chef Masters (Bravo) and the Emmy-nominated Top Chef Junior, an extension of the NBC Top Chef franchise. A New York Times bestselling author, Curtis has authored six cookbooks including his most recent, Good Food, Good Life.