Babies may beg for bottles and toddlers for toast, but what nutrition does your developing child actually need? Let's learn more about the best foods for growing children, how to get them interested in a larger variety of fresh produce and how much they should consume each day on average. Please note, if your child has a medical condition, or takes medication, it's best to consult with your family physician about specific nutritional needs for your little one.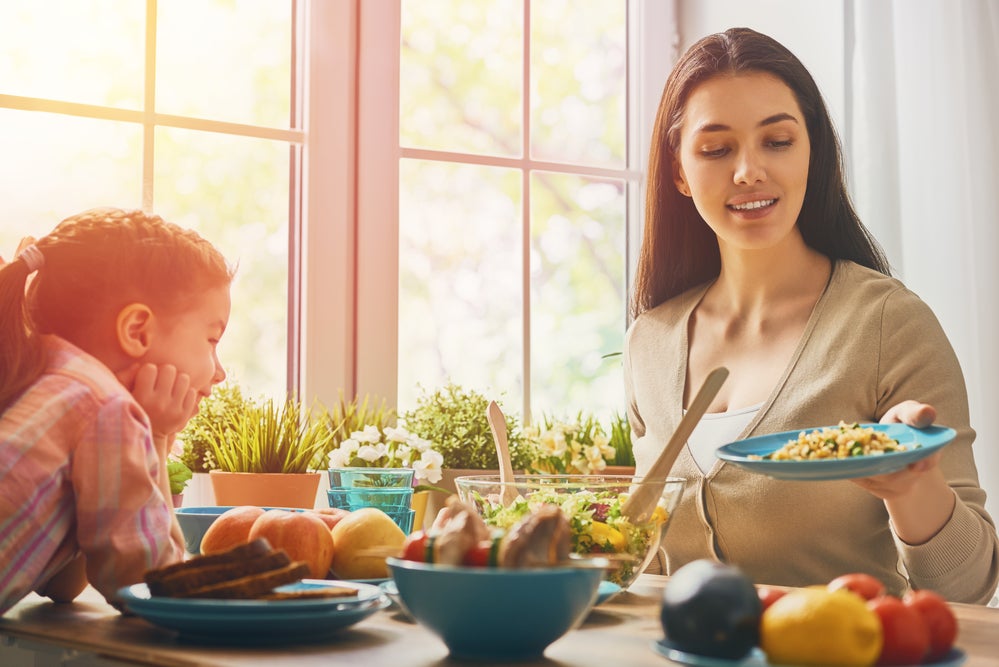 The Best Foods for Young Children
Proper nutrition is important for your child's mental and physical development. According to the American Academy of Pediatrics (AAP), babies generally focus on formula or breast milk for the first six months of life. After that, it's time to explore age-appropriate complementary foods.
As children grow into the toddler and preschool years, their appetites and teeth begin to mature. A daily source of calcium (here's how much milk to offer children each day) helps them build strong bones and teeth. They can also get calcium from fortified cereals, tofu and oatmeal. This age group also needs ample fiber to support digestion and promote satiety. High fiber foods include many whole grains, beans, fruits and vegetables.
Kids in grade school need a balanced diet including protein (beans, eggs, milk, peanut butter, meats), carbohydrates from grains (wheat toast, rice noodles) and fresh fruits and vegetables.
Older children still need a variety of food in their diet, with a nod toward high-iron foods (nuts, fish, legumes) for young girls when they start to menstruate and daily calcium for bone mass growth. If your pre-teen doesn't get excited about plain milk, offer a milkshake or decaf latte and they'll be sipping in no time.
Making The Best of Meals and Snacks
We all know children are little sponges, picking up on the words we say and behaviors we model. They are also watching your plate! As you plan your meals for the days ahead, keep in mind what you're eating, and offering to your child. You'll likely get more interest if your child sees you drinking milk or munching on the same carrot sticks you've offered to them.
Another way to get them to try new-to-them foods is to include them in favorite recipes that feature several ingredients. Think soups, pasta sauces, casseroles or even salad. Just be ready with the bib and wipes, because every food is finger food for most littles. You might just discover that fishing for chunks of vegetables is fun when they're floating in a bowl of warm broth. Hey, whatever it takes to get a toddler to eat sometimes!
Here are some kid friendly recipe ideas to try with your family:
Savory sheet pan tart with zucchini and goat cheese: This looks like a pizza, but is filled with satisfying egg protein, fresh zucchini and creamy goat cheese. Cut this tart into squares and the kids will be grabbing for more.
Chai spiced rice pudding: This rice breakfast is sure to make your toddler smile while offering a dose of fiber. It's seasoned with cinnamon and vanilla. Add fresh berries to this pudding to entice your little one to dig in.
Creamy chicken pasta bake with broccoli and romanesco: Kids love noodles! Choose pasta made from lentils or chickpeas to boost the protein and fiber in this recipe for growing kids.
How Much Should Kids Eat?
The Centers for Disease Control and Prevention explains when infants over the age of six months begin to eat solid foods to remember their tummies are small. Start with 1-2 tablespoons and watch their reaction. Do they act full or reject more? They might be! Between the ages of six months and one year, offer food every few hours while keeping in mind that breastmilk or formula should still be their primary source of nutrition..
Children ages one to three years generally eat about one-quarter the size of an adult's meal. The AAP says you can figure about 40 calories for every inch of height, but this varies based on their body shape, and activity level.
As your kids grow, their appetites become more robust. The U.S. Department of Agriculture's MyPlate website explains nutritional needs for children based on their age bracket: infants, toddlers, preschoolers, kids, teens, and young adults. Visit MyPlate for more details about feeding your growing child.
As you work on your next grocery list, be sure to stock up on a2 Milk® to make soups, milkshakes, cereal, and so many more meals for you and your kiddos. You never can have too many cartons on hand when you have thirsty, growing children in the house.