Whether you're observing Meatless Mondays or have decided to forego meat altogether, we have some fabulous vegetarian dinner ideas to share with you! They're so tasty, you won't miss the meat. The secret is using protein-rich ingredients like beans, eggs, lentils, leafy green vegetables, tofu, or a2 Milk® to boost your nutrition and help you feel full after the meal. So, let's get cooking...without meat!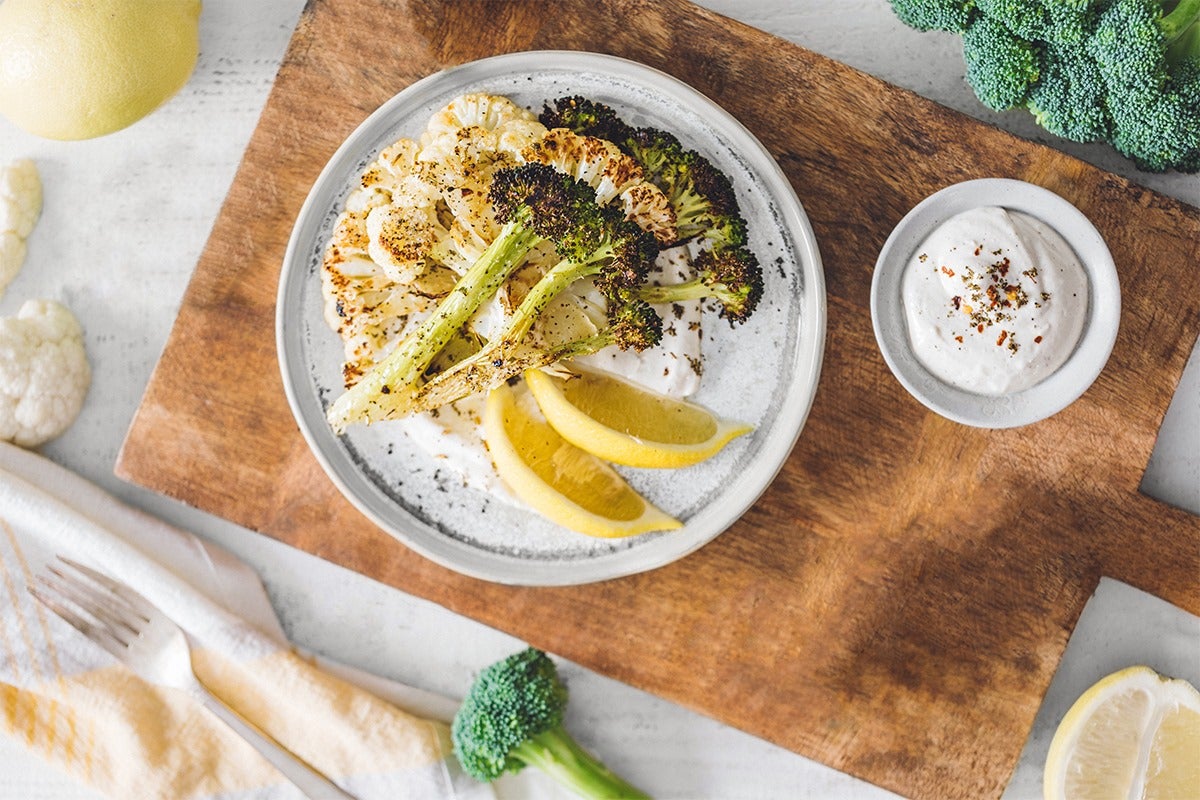 Roasted broccoli and cauliflower steaks with tahini
Let veggies take over your dinner plates tonight. This delicious combination of roasted cauliflower and broccoli is drizzled with a refreshing lemon garlic sauce made with tahini, a flavorful sesame seed paste. Enjoy as prepared for a lighter dinner, or serve over a bed of steamed jasmine rice or protein-packed chickpea pasta for hearty appetites.
Mini quiche with goat cheese and asparagus
Sometimes the best way to end the day is with breakfast for dinner. These mini quiches come together in five minutes and bake in the oven while you get the kids started on homework or take a shower. We think they'd be delicious paired with country-style hash browns and warmed fruit muffins topped with pats of homemade butter for a classic breakfast spread.
Braised white beans with kale on toast
Need simple and hearty? We think this take on beans-on-toast will become your go-to on busy school nights. Canned white beans are seasoned with garlic, thyme, and sage to create this savory entrée. As a bonus, the cooked kale wilts down, making it less noticeable to picky kids. Serve the toast alongside a bowl of chunky tomato soup or with a fresh fruit salad to round out the meal.
Mushroom wild rice soup
This vegetarian entrée features both cremini and shiitake mushrooms blended with wild rice. The flavorful base is prepared with vegetable broth, white wine and a2 Milk® Whole to create a creamy, delicious soup your family will enjoy. Pair it with garlic bread and a colorful Broccoli salad with cranberries and creamy (sheep's milk) feta dressing.
Sweet or savory crepes
Channel your inner European chef and make these simple crepes featuring eggs and a2 Milk® Whole. After you prepare the thin, pancake-like pasties, fill them with fresh vegetables of your choosing. A blend of sautéed mushrooms, bell peppers, and onions topped with a sprinkle of your favorite cheese and fresh herbs make for a light summer dinner. Pair it with a green salad and you're set!
Looking for more vegetarian meal inspiration? Browse our recipes for breakfast muffins, snack-time smoothies, and so much more! Here's to going meat-free!