If you're shopping for a friend or family member who seems to have everything, rely on your creative skills this season. Homemade gifts radiate thoughtfulness. You'll not only wow them with such a personalized holiday gift, but they'll also appreciate the time and effort you put into crafting something extra special for them to enjoy.
A photo-clad necklace: This perfect gift will fit anyone and is simple to assemble. Pick out a locket pendant and matching chain at your local hobby shop or jewelry store. Then, measure the opening inside the locket. You can print a photo on your home computer or have one created on photo paper at the local photo lab to fill the opening. To personalize the gift more, have the necklace engraved with a special message at a jewelry shop.
Hot chocolate in a jar: On a chilly winter evening, encourage your loved one to curl up with a mug of warm deliciousness. Layer the ingredients for this Rich Hot Chocolate recipe in a glass jar, minus the a2 Milk® Chocolate 2% Reduced Fat. Then add a decorative label that shares the recipe instructions for mixing up the drink. Finish the jar with come curly ribbon and a festive gift tag.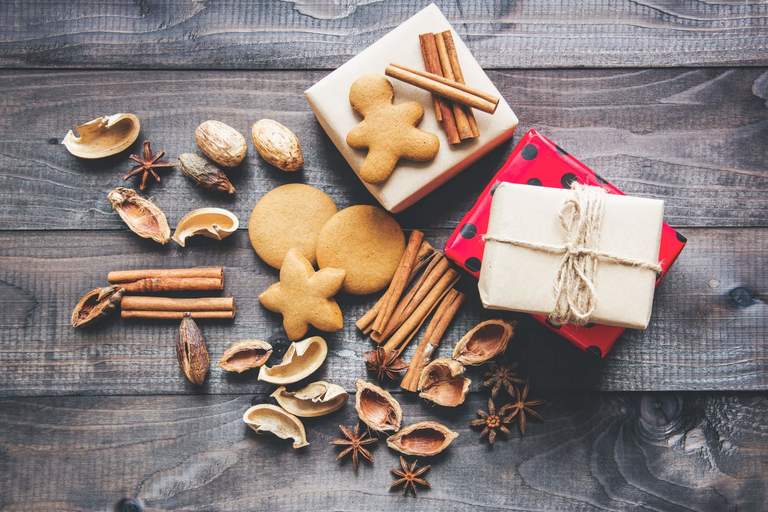 A tin of holiday treats: Sometimes the best way to let someone know you are thinking of them is by tempting their sweet tooth. We all love a little treat or two during the holidays. Have the kids paint, color, or decoupage a small gift box. Then, fill it with colorful tissue paper and a mix of homemade cookies and candies such as caramels, shortbread, peppermints, and these Custard Tarts with Dark Chocolate and Hazelnuts.
A unique door wreath: Think of a special theme -- sports teams, favorite colors, movie characters -- that the gift recipient loves. Then, find ornaments and trinkets that reflect that passion and put them on an evergreen wreath using hot glue or flexible metal wire. Finish the craft with a large fabric bow centered at the top of the wreath. This gift can be proudly displayed during any season on a front door or interior home door using a wreath hook.
A delectable dessert: Have you been invited to a holiday party of someone you don't know well, but want to bring a little gift? Consider a dessert! Even if they have a sweet treat planned, nobody will pass up trying a small slice of another holiday goodie. We think this Bread Pudding with Whisky Currents made with orange marmalade would be a welcome addition to any holiday gathering.
The most thoughtful gifts come from the heart, and often, your kitchen. Browse the a2 Milk® Recipe Blog to discover more tasty gift ideas for your friends and family. Happy holidays!