It's that special time of year for eating grandma's homemade goodies, gorging on football, and relish-ing bad turkey jokes. Ahhh, the holidays...can't you just smell the cinnamon and Black Friday shopping in the air? These days, Thanksgiving can get a little complicated! Everyone has their secret to a healthy lifestyle, which can be hard to accommodate with the usual holiday fare. Whether you're seeing family or hosting a Friendsgiving, these recipes will help everyone feel full and satisfied, no matter their diet.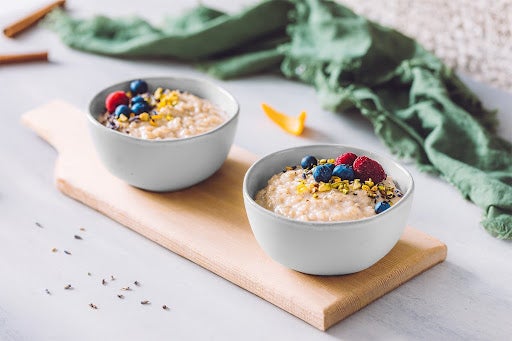 Vegetarian Chia Seed Pudding with Fresh Berries
This delicious dish is an excellent start to a marathon cooking day or a midday snack to ward off hungry grazers. You'll also score points with the vegetarians in your life.
Chia seeds combined with fresh fruits add a flavorful burst of natural energy while also helping curb your appetite. Finish it off by topping with grainless granola for your gluten-sensitive guests.
Pro-tip: if you have a spice grinder, blitzing the chia seeds before adding milk helps make the texture silky smooth. a2 Milk® Whole and golden honey make this Vanilla chia seed pudding a creamy treat!
Yummy Gluten-free Pancakes
Warm up your family with this Lemon raspberry pancake recipe. a2 Milk® Fat Free turns this batter into liquid gold. To make your pancakes gluten-friendly, simply exchange the all-purpose flour for brown rice or coconut flour.
Both brown rice and coconut add a delicate taste to the pancakes that complement the lemon and raspberries without being overpowering. You'll want to avoid chickpea flour unless you're going for a more savory crepe-style pancake. With some simple substitutions, both vegetarians and gluten-free guests will love savory crepes.
Plant-based Cauliflower Steaks
Cauliflower steaks are a must if you are hosting plant-based family and friends. Our signature recipe is deliciously seasoned with garlic and lemon. But the best part is the scratch-made tahini featuring a2 Milk® buttermilk.
Don't forget the holiday season also means grocery stores will sell out of your favorite staples, i.e. nutmeg, stuffing mix, and buttermilk. Luckily, you can quickly whip up Homemade buttermilk in 3 easy ways. Choose between the 12-hour and 20-minute techniques.
(If you're hosting a large family, you'll probably need both.)
Grab a2 Milk® Whole and a few simple ingredients to get started.
Round out the meal with mashed potatoes and roasted broccoli to really wow your guests.
Substitutions for a Healthier Thanksgiving
The past year has seen a rise in healthier eating all around. While your guests may not have lifestyle restrictions like gluten-free or plant-based eating, they may still appreciate having some healthier options at the Thanksgiving table. These dishes make great substitutions to traditional holiday staples:
Rice: quinoa, barley, Shirataki rice, black or green lentils, couscous, riced broccoli
Bread stuffing: fruit stuffing, grilled squash, wild rice
Pasta: spaghetti squash, zucchini/carrot noodles,
Mashed potatoes: mashed cauliflower or white beans
Eggs: applesauce, mashed banana, ground flax, chia seeds
Salt: various herbs and spices, lemon/lime juice, flavored vinegar
Eat Better This Holiday Season
Thankfully, it's pretty simple to add the complete nutrition that a2 Milk® provides to any diet! Whether it's used in side dishes, festive drinks, or desserts, the possibilities are endless! Browse our recipes for more tasty additions to your holiday season.