With temperatures on the rise, we're looking for ways to cool down in the kitchen. Hello, summer salads! The secret to these tasty one-bowl meals is including ample protein, whole grains, and fresh produce to create a nutritionally balanced, satiating meal. Experiment with seasonal fruits and vegetables from the farmer's market or your favorite grocer. And, when it comes to protein, consider going beyond meat and fish. Give nutty quinoa (a whole grain), tofu (made from soybeans) or chickpeas (a legume) a chance. You might just discover a new favorite summer salad this season!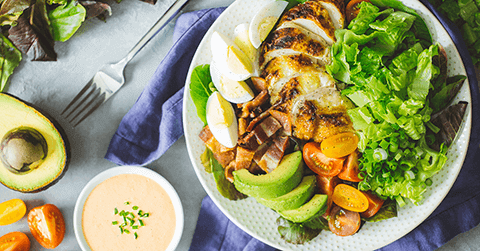 Cobb Salad with Homemade Chipotle Ranch Dressing: Ahh, this classic summer salad -- piled high with protein-rich bacon, chicken, and eggs -- features a deliciously zesty dressing made from peppers in adobo sauce. There's nothing like putting a new spin on an old favorite to kick off the summer season.
Quinoa and Kale Protein Power Salad: When a salad is a meal, it has to be packed with fill-you-up, keep-you-full ingredients. The quinoa, chickpeas, and pistachios in this combo from Heidi at Foodie Crush will do the trick. And, the refreshing clementine slices and mint will have you reaching for an extra scoop!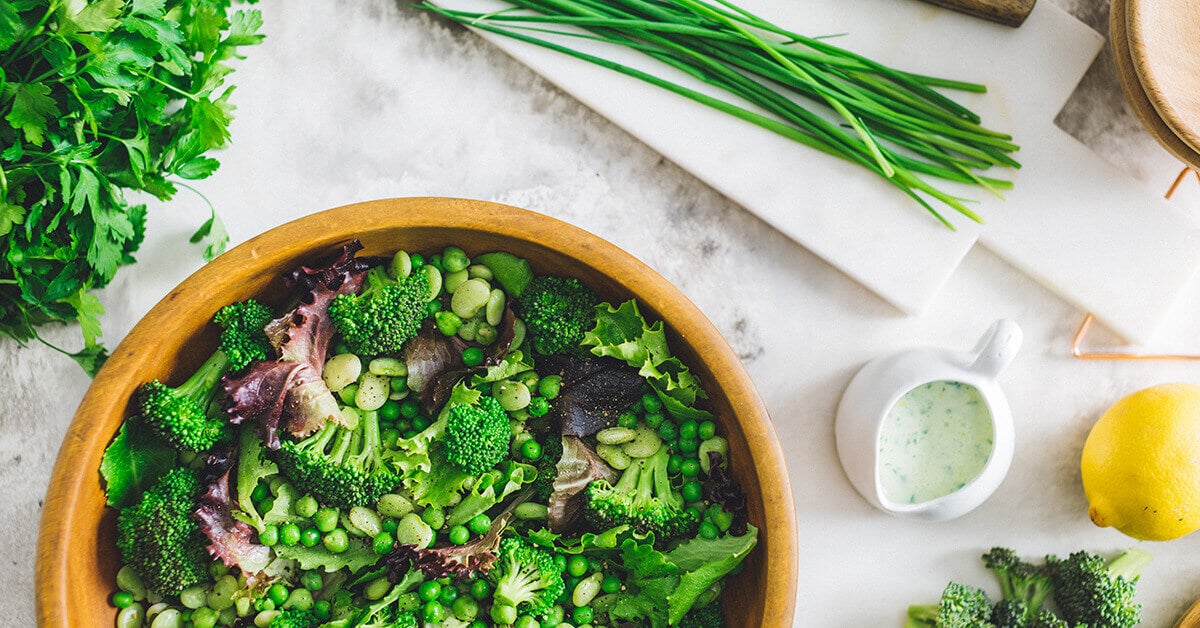 Broccoli Bean Salad with Creamy Garlic & Herb Dressing: This super green vegetarian salad features layers of hearty lima beans, peas, and chickpeas. If you want to amplify the protein power even more, simply toss some leftover grilled chicken cubes or sunflower seed hearts on top before serving.
Sesame Tofu Salad: Do you love Asian food, but want to skip the noodles or rice? This summer salad from Ree Drummond on The Food Network features tofu marinated in a savory combo of soy sauce, fresh ginger, garlic, red pepper flakes tossed with mixed greens, grape tomatoes, red onion, and mandarin orange segments. Are you drooling yet?
Watermelon Feta Salad with Cajun Shrimp: If seafood is fresh and plentiful, add it to your salads. This recipe from Taylor at Food Faith Fitness is a balance of savory and sweet thanks to the seasoned shrimp and fresh fruits paired with salty feta cheese crumbles over spring mix greens and spinach.
Looking for more protein? Pair your summer salads with tall, cold glasses of a2 Milk®. Or, indulge in a frosty milkshake for dessert! If you're feeling adventuresome, have the kids help you make homemade ice cream or yogurt with granola to pair with your summer meals. Enjoy!