Nothing says summer like packing up your swimsuits and towels, heading to the local pool (or beach), and splashing in the sun all day! And poolside snacks are an essential part of the perfect summer day - no one wants to have hunger pangs interrupting their fun in the sun. Browse some of our favorite, easy-to-pack poolside snacks below.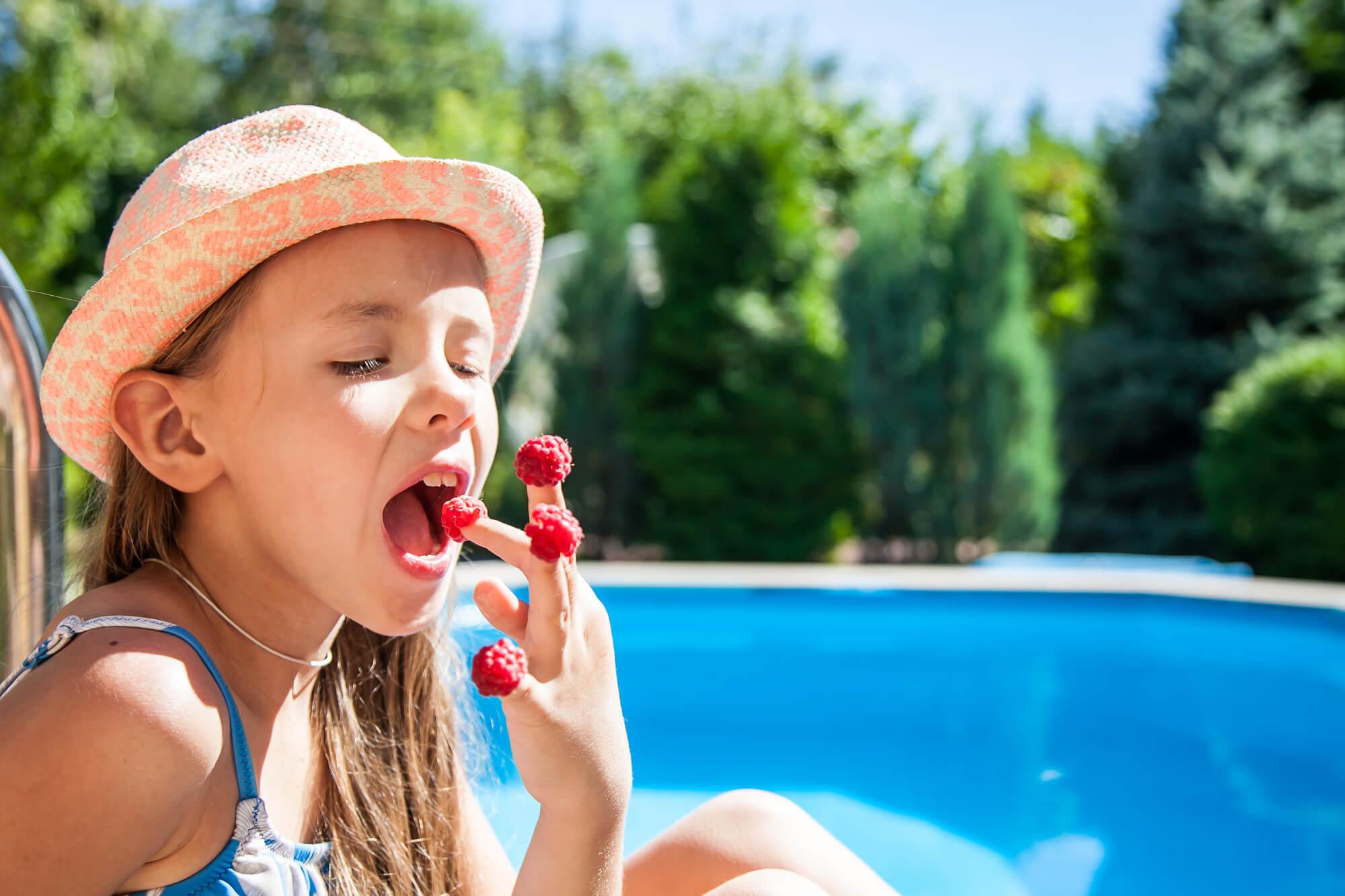 The 5 Best Poolside Snacks for the Summer
Polish Off Poolside Popsicles
Nothing says summer like enjoying a refreshing frozen treat in the sun! Popsicles can easily be made at home and packed in a cooler for a chilly snack next to the pool. To make this summer staple a bit more nutritious, make popsicles with a milk base to pack some protein into the pops.
We love these tangy Lime Cream Pie Popsicles that can be prepped in ten minutes the night before pool day! Your kids may also a twist on classic snacks in the form of popsicles - try some cereal & strawberry milk pops or enjoy these refreshing cookies and milk popsicles.
Slurp Down Smoothies
Smoothies are the perfect poolside snack - they're delicious and hearty enough to stave off the midday chorus of "I'm hungry!". Prep your smoothies before heading to the pool, pour into a thermos to keep it cold, and enjoy sips of the fortifying beverage throughout the day.
Berry smoothies are a classic for a reason - our milk-based recipe is sure to be a hit! Or, add in some citrus for a tangy twist. Our grapefruit & ginger and citrus smoothies are designed to cool you down on a hot summer day.
Feast on Fruit
Sometimes, the best poolside snacks are the simplest ones! Sliced fruit is easy to prepare, easy to eat, and can be enjoyed whenever you need a break to cool off from the fun in the sun.
In the morning, chop up watermelon, pineapple, apples, mango, and any other fruit that's in season, and toss them in a container. To add some savory flare to the fruit, squeeze a lime over the mixed fruit and sprinkle some salt and a hint of chili powder on top before mixing well. Trust us - it's delicious!
Sip on Some Coffee
If you can't hang out poolside without your favorite energizing drink, we've got your back! You can mimic your favorite coffee shop treat with a few ingredients at home, creating a refreshing iced beverage perfect for enjoying in the sun.
An iced cinnamon vanilla latte can be prepped in less than 15 minutes with ingredients you have in your pantry at home. If you prefer to keep it simpler, skip the cinnamon and enjoy a sweet iced vanilla coffee with a splash of a2 Milk for extra creaminess.
Crunch on Crudites
If you want to keep your poolside snacks as healthy as possible, you can't go wrong with mixed veggies with a tasty savory dipping sauce! This poolside snack can be stored on ice in your cooler and munched on whenever those hunger pains hit!
Grab any veggies you have in your fridge - baby carrots, bell peppers, cherry tomatoes, snap peas, and celery are all great options - and throw them in a to-go container. Bring along your dip of choice - hummus is a protein-packed option, or whip up an easy homemade ranch dressing for a flavorful treat.
These poolside snacks will help give you the energy you and your family need to play at the pool all day (and they're delicious, too!). For more summer snack inspiration, browse our recipe blog today.