Spring holidays and summer birthdays beckon! If you plan to celebrate with a sweet treat, consider tackling a simple recipe featuring chocolate. After all, it's good for you! The American Heart Association shares that flavanol in milk and dark chocolates may help keep our hearts healthy and reduce stroke risk when we eat it in moderation. Here are our favorite healthy chocolate treats to serve during special occasions.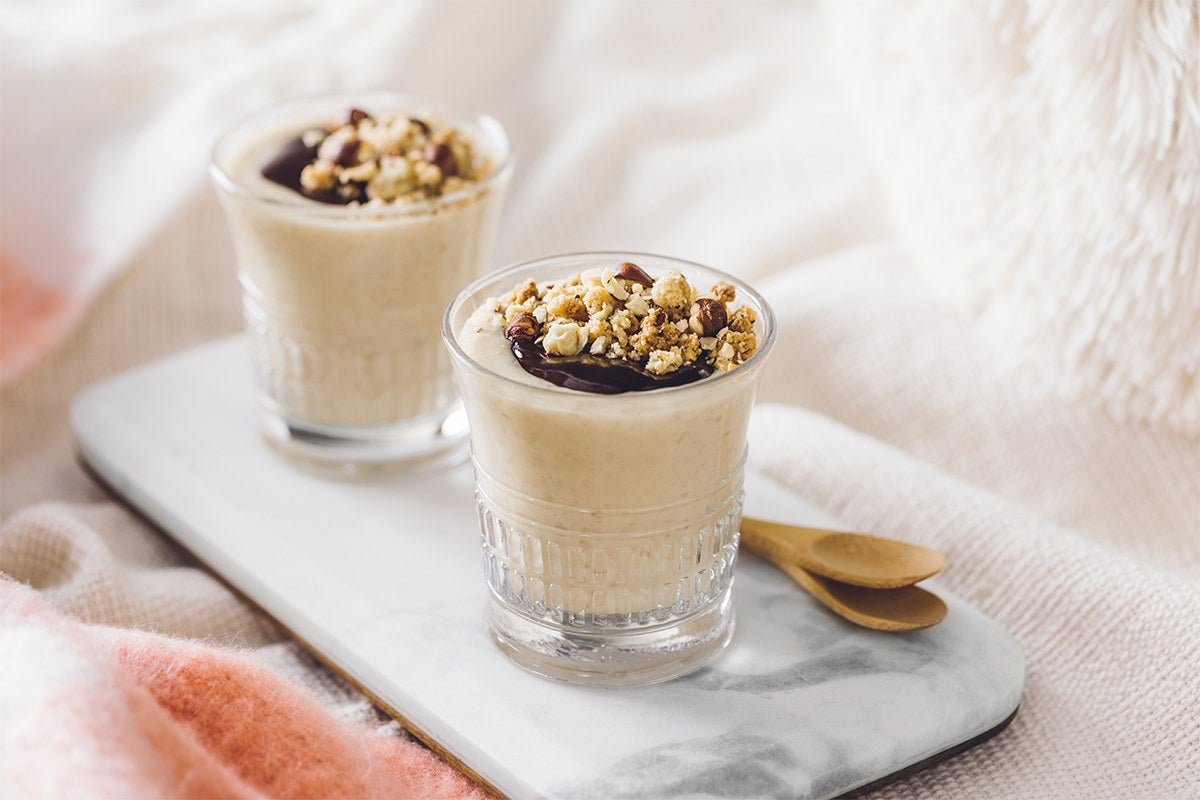 Banana Pudding with Chocolate Ganache
Cool, delicious homemade pudding topped with creamy chocolate ganache and a crispy crumble of hazelnuts is a winner for any occasion. Serve the pudding in delicate ramekins or shimmery wine glasses for a stunning presentation that also helps diners be mindful of portions. We love that you can make this dessert the night before a celebration and keep it cool in the refrigerator until it's time to enjoy.
Chocolate Bread Pudding by Curtis Stone
Looking for a classic dessert for Easter brunch or to share with a neighbor for their birthday? This Chocolate bread pudding by Curtis Stone marries the comforting flavors of brown sugar, vanilla extract, and chopped semisweet chocolate. You'll adore the tender chunks of pudding-coated bread with a crispy golden top. For an extra indulgence, serve this dessert topped with a scoop of Old fashioned homemade vanilla ice cream featuring a2 Milk® Whole.
Chocolate Dipped Fresh Fruits
If you prefer a light dessert, make a tray of fancy chocolate-dipped fruits. We love pairing colorful orange wedges with white chocolate, plump strawberries with dark chocolate, soft banana chunks with milk chocolate, and crisp apple slices with semisweet chocolate. Simply melt the chocolate of choice and carefully dip the edges of fresh fruits into the chocolate. Place the treats on waxed paper to cool until the chocolate is firm. Then, arrange the bite-size desserts on a beautiful serving tray.
Chocolate Waffles With Fresh Berries
Whether you're planning breakfast in bed or a tasty holiday brunch, these Chocolate waffles offer a surprising spin on the usual breakfast delicacy. Cocoa powder turns the batter into a decadent treat to create a dessert-like breakfast entrée. We love topping this recipe with fresh cherries, wild blueberries, or sliced strawberries. Then, drizzle with maple syrup or a dusting of confectioner's sugar for the prettiest presentation.
As you work on meal plans for the days ahead, browse the Recipes Blog for more ideas, including flavorful beverages, creative side dishes, and one-pan entrees! You're sure to find an intriguing new dish to share with the ones you love. Happy cooking and baking!