Wintertime is layer time. Layers of soft, cozy sweaters. Layers of snuggly blankets on the couch. And layers upon delicious layers of flavor in your favorite comfort foods. You read that right! 'Tis the season to fire up the oven and fill the air with inviting aromas. And a2 Milk® is here to help keep you warm, and full, all winter long with our coziest recipes.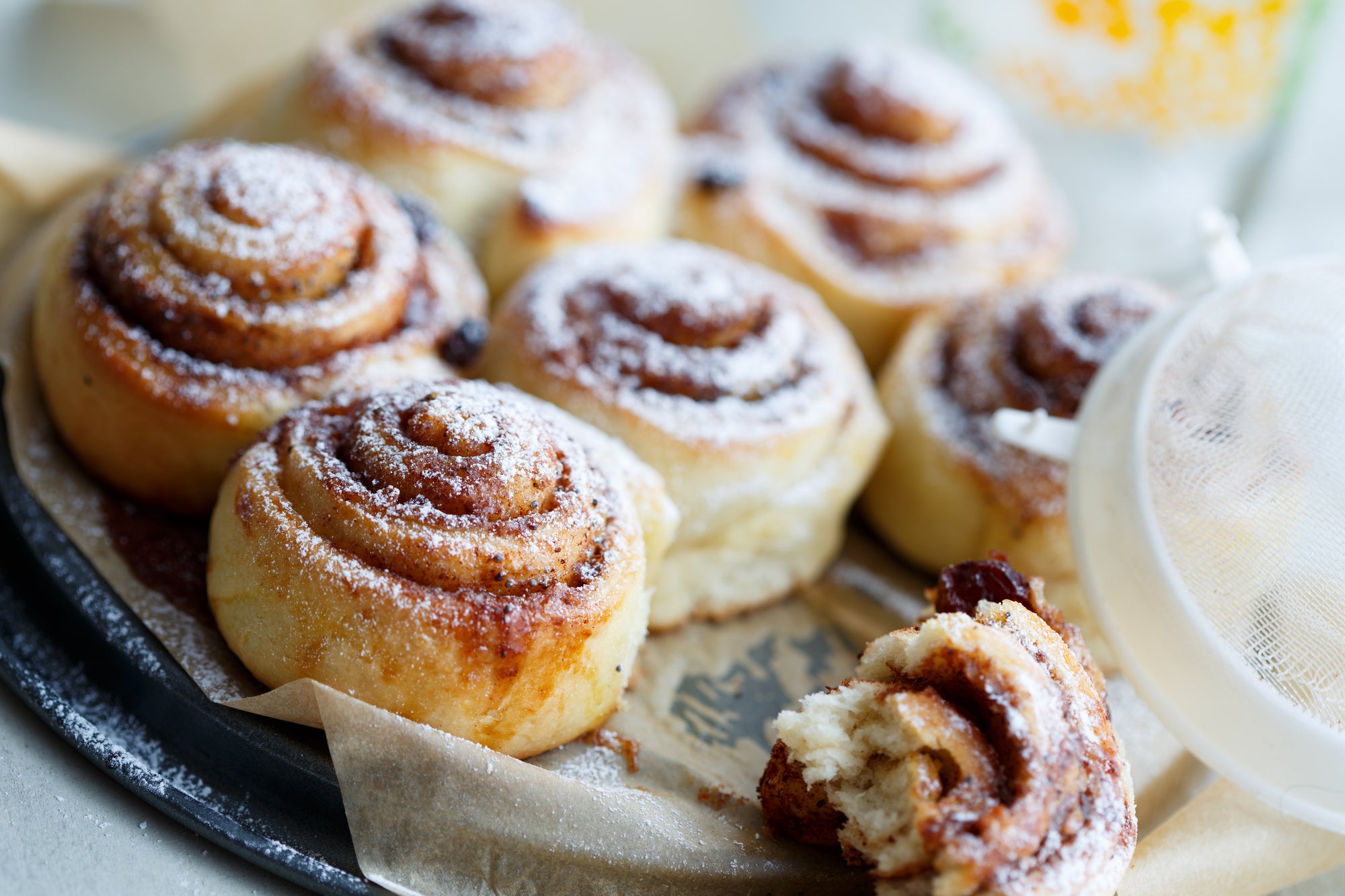 Warm Cinnamon Rolls
What's better than ooey-gooey, fresh-out-of-the-oven cinnamon rolls? Answer: the way they make your home smell afterward. You'll need to let them cool first, but your taste buds will thank you when you try these Cinnamon Rolls by Heather Brooker.
The key to making these cinnamon rolls perfect every time is to warm your a2 Milk® Whole before mixing and then letting the dough rest for about 2 hours. After baking, drizzle on the icing and watch it melt into the crevices of each sweet bun.
Enjoy your roll with this totally instagrammable Gingerbread latte.
Breakfast for Dinner
What is it about eating breakfast for dinner that makes it taste better? We don't know but we'll be making stacks of flapjacks until the cows come home.
a2 Milk® cows that is *wink*.
Our cows are raised with so much care, they're virtually a part of the family. Like bringing home a 1600lb baby. To ensure they are treated like family, we only work with farmers that are independently certified by the Validus Group for animal welfare. Each location undergoes rigorous assessments to ensure all of our a2 Milk® cows are happy, healthy cows.
And for you, that means velvety, nutrition-packed milk!
Try out these delicious breakfast recipes good enough to devour any time of day:
Chicken Pot Pie and Other Layered Dishes
Our Creamy chicken pot pie does not disappoint! When winter rears its frosty head, this childhood favorite builds castles of nostalgia on the taste buds. The pillows of flakey dough. The yummy veggies in a creamy, perfectly seasoned sauce. It's like heaven but in a pie. And with way more chicken. Can you say, drool?
But don't stop at pot pie, during the cold season, let a decadent casserole keep you warm.
This Roasted cauliflower-broccoli pasta bake by Curtis Stone has a crusty, cheesy top that'll make baked mac 'n cheese jealous. It features crispy pancetta combined with finely chopped onions and garlic that add a depth of flavor to the cream sauce.
Next up is a Creamy chicken pasta bake with broccoli and romanesco. It's easy to make and can be prepped in 10 minutes, once the pasta is cooked, then bakes for 45 minutes. We recommend a2 Milk® Whole as it blends nicely with the asiago and manchego cheeses.
Beautiful Soup
What would a 'Coziest Winter Recipes'' list be without soup? For our soup du jour, we nominate Creamy carrot bisque.
Traditionally, bisque is made with a strained broth of crustaceans like lobster, crab, or shrimp. This thick, hearty soup is a French seafood staple akin to clam chowder. Though our version doesn't have seafood in it, it's just as hearty and delicious but with way less work.
To make this Creamy carrot bisque completely vegetarian, substitute out the chicken stock for vegetable bullion cubes and hot water.
Make any soup a great soup with our Creamy soup base. With a little prep, you can spend less time in the kitchen and more time telling stories with your family.
Winter is a season that brings its own peculiar delights. It's a time of reflection but also a time to build family memories over hot fires and warm cups. While these recipes are small ways to brighten your days, the real brilliance comes from you. So get creative and check out any of our many drool-worthy recipes. Also, find a2 Milk® at a grocery store near you, your tummy will be glad you did.