Schedules have changed. Whether the camp your kids usually go to isn't open this season, or you've decided to opt for more family time, consider this: You can make a summer camp at home for the kids -- and you -- to enjoy! Create a family staycation with all the comforts of camp at your fingertips. From Homemade hot chocolate and ghost stories around the bonfire, to basketball tournaments and obstacle courses, these ideas are sure to fit into your goal of increased mind and body wellness for your family.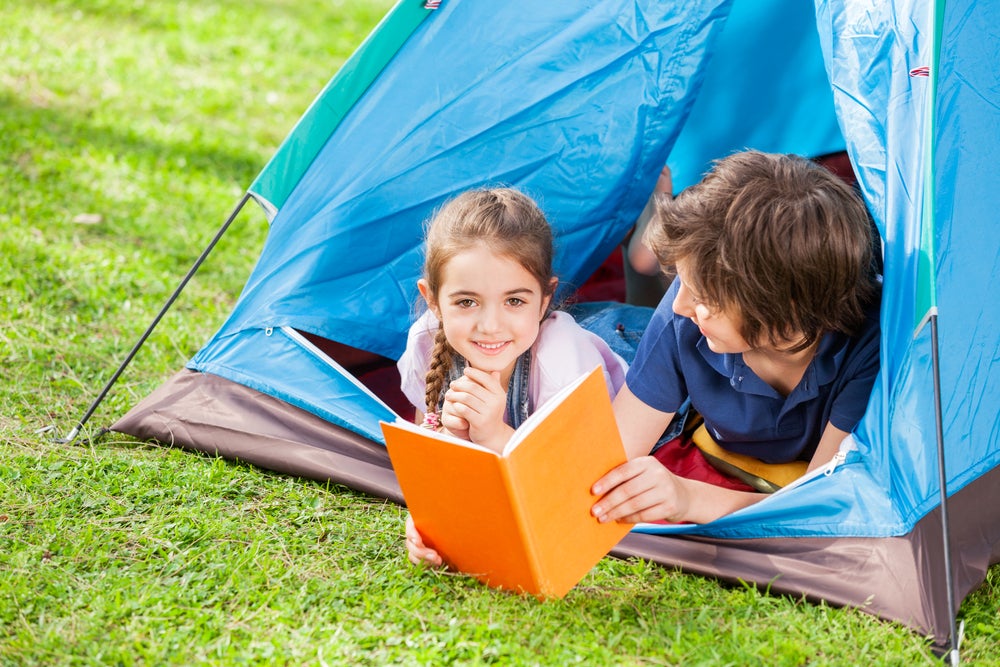 Dressing for Summer Camp
One of the best parts about summer for kids is living in play clothes 24/7, am I right? So, why not make cute camp T-shirts they can wear during the activity -- and beyond! You can order custom shirts online, or get crafty yourself with fabric paints. Just be sure to include the year and name of the camp! If you have one child, name the camp after them. For example, "Kari's Camp." Or, use your last name. "Camp Mitchell" works great for families with multiple littles. Then, pair the shirt with some parent-approved flip-flops, sun-shading ball caps, or colorful new sneakers. And, don't forget a camp counselor shirt for yourself and sunscreen for everyone!
Setting up a Camping Tent
Summer camp just wouldn't be the same without the sleepaway part. During your adventure, plan to craft an alternative sleeping area for the kids. For apartment dwellers, this might be a cleverly composed cushion fort with a blanket canopy in the living room. If you have a backyard and old tent in the garage, get it set up! Or, you can drape a tarp over the swing set to create a tent. Once you have your tent built, roll out the sleeping bags, pillows, and blankets to make it extra cozy. And, don't forget the flashlights!
Planning Camp Activities for Kids
Brainstorm a list of your children's favorite games and sports when they go away to camp. Then, get creative! Almost everything can be modified to fit summer camp at home. The 3-on-3 basketball tournament your son loves can be done in the driveway or with a foam basketball set in the living room. Arts and crafts projects can happen at the kitchen table or sink, including tye-dye projects. Do the kids love the nature aspect of camp? Hop in the car and go explore the trails at the closest state park. There you can identify wildflowers, birds, and animal tracks. The kids can even pause and draw their versions of these things in a camp journal!
Making Camper Approved Foods
Don't forget the fun meals and snacks! Stock up on sandwich fixin's, cartons of a2 Milk® Chocolate, fresh fruit, chips and of course... graham crackers, chocolate bars and marshmallows for s'mores. Since you are at home, you can also be sneaky and use the oven to make hearty meals for the campers. We love the idea of a protein-rich casserole to fuel them for all their adventures. Try this Creamy chicken pot pie recipe. If you have access to a fire pit in your yard, a local park, or a friendly neighbor's home, experiment with making food outside. Grilled meat and veggie kebabs are easy to cook and fun for kids to eat. For dessert, cool down with one of our favorite summer treats, like these Lime cream pie popsicles!
It's almost time for DIY summer camp at home! Are you ready? As you prep a shopping list, consider what ingredients you'll need for the recipes you're making. Need snack and meal ideas? The kids are sure to love the smoothies, breakfasts, and treats in our recipes. Here's to memory-making (without the loud bunkmates and mosquito bites) this summer!