With school back in session, extracurricular activities on the calendar, and our everyday responsibilities commanding attention, it's time to pause and pencil family time into our busy days. How can we get really present and make memories?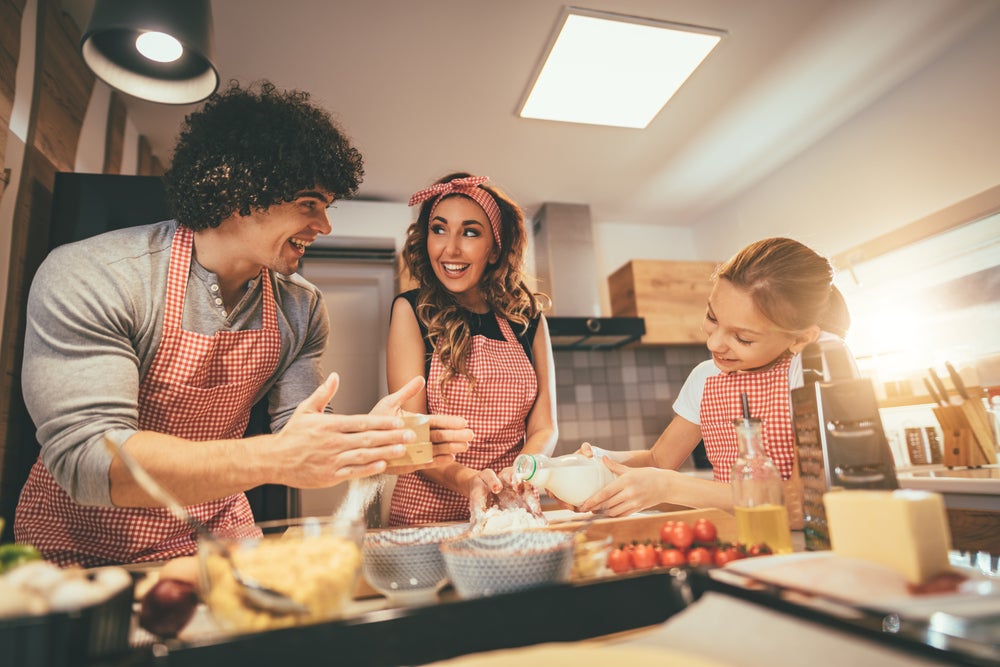 Slow down. Being mindfully engaged with loved ones is what turns into heart-warming bonding moments that we cherish for years to come. Plan one of these ideas for your next weekend afternoon, and you'll feel more connected and grateful for the moments you're experiencing.
Make a Long-time Family Recipe
Spending a chilly day in the kitchen is the perfect way to perk everyone up. We love the idea of looking through an old family cookbook handed down through the generations or the household recipe box filled with yellowing cards. Pick out a family favorite and use a2 Milk® -- whether it's cookies, a pie, or a casserole -- to prepare the recipe. Kids can help measure and stir. Adults can wash and chop ingredients. As a team, you'll all work together to create something that has been meaningful for your family for ages. Once the recipe is ready, sit down at the table together and share your memories of the recipe. Was it always served during the holidays? Did grandparents snack on this as children?
Get Crafty and Creative for a Holiday
With the winter holidays right around the corner, now is the time to dig into those Pinterest boards you've been building all year. Find an age-appropriate craft to get into the holiday spirit and gather the kids around the table for creative time -- a much needed way to relax and nurture our bonds. For simpler projects, consider making homemade greeting cards or ornaments for a Christmas tree. If the family members are a bit older, tackle something more challenging like a holiday wreath, a centerpiece for the dining room table, or even decorating picture frames to give as gifts this season. Whatever you do, enjoy the time together, snap a few photos and be sure to stop for a lunch break. We think this creamy Mushroom wild rice soup featuring a2 Milk® Whole served with some crusty french bread will hit the spot.
Create a Photo Scrapbook of Summer
There's no better way to slow down than to look back through all the photos from warm-weather adventures tucked away on our phones and digital cameras. Now, go one step further and have the best ones printed on photo paper. Then, work together as a family to create a coffee table scrapbook that visitors can share during the holiday season. As you cut, arrange and glue the images to the pages, reminiscing about the fun you had, re-tell the funny moments of summer vacation. Laugh at the pool pics. Make up funny captions for people with goofy expressions. You can create new memories by engaging with past ones!
Go on a Family Hike or Bike Adventure
Whether the goal is colorful fall leaf-peeping or taking in the vibrant sunshine on a warmer winter day, you can never go wrong with a family outing in nature. Inhale the fresh air from the winding trails in a local state park by bike or foot. As a family, can you name the various types of trees, flowers, and wildlife you see? How does the landscape smell? Can the kids spot animal tracks? Before heading home from your adventure, relax at a picnic table with a snack like these Whole grain zucchini muffins with pineapple and a thermos of Rich hot chocolate. If you have young kids, bring along crayons and paper for them to draw their favorite scene from the day to help them process the good times and fuzzy feelings before heading home.
As you plan your next memory-making activity, don't forget the snacks! Keeping everyone fueled with delicious drinks, and tasty treats make every gathering that much sweeter. Browse these recipes for ideas. Here's to more family time in the weeks ahead!