The heat is on! If you're tired of venturing to the pool, keep kids cool by staying at home and getting a little creative in your yard. With a garden hose at hand, frosty treats to snack on and a few go-to outdoor toys you'll have all the neighbor kids wanting to hang out at your place.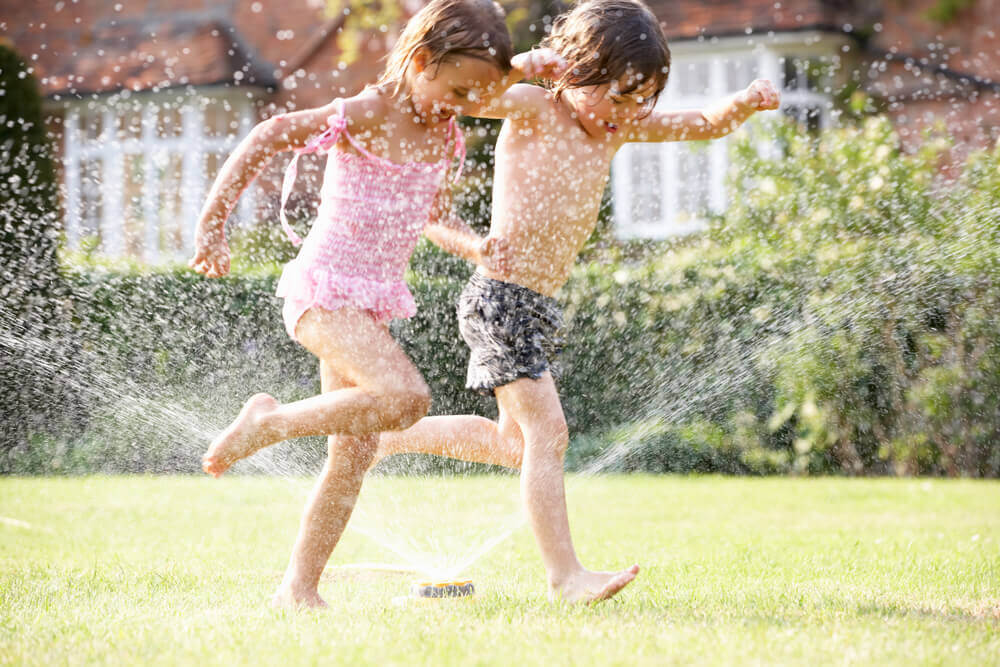 Baby pool bobbing: Have an old plastic kiddie pool that you haven't pulled out in ages? Give it a rinse and turn it into a hand-eye coordination activity for the kids. Have them put on their swim goggles and snorkel masks, then lean into the pool to fetch coins from the bottom. Ask them to add up the value of the money and see who can collect the most in 15 seconds!
Water balloon battle: Got lots of kids hanging out? Use the hose to fill up water balloons, then assign each child a specific color of balloon. Let the kids toss the slippery objects at their friends. As balloons break, the cool water will fly! The winner is the one who breaks all of their balloons first, so throw fast and hope others don't catch your color!
Icy cold snacks: Nothing beats the summer heat like munching on chilled treats in the shade. We love indulging in homemade Strawberry Banana Fruit Popsicles or chilled Chocolate Pudding after playing in the sunshine. Be sure to wait at least 15 minutes after eating before jumping back into any vigorous activities to avoid tummy aches.
Sprinkler jump contest: Set up a sprinkler and challenge the kids to run into and jump over the stream of water. The supervising adult will act as the judge to determine who can jump the highest. Then have a contest for the craziest hang-time pose while jumping! Can someone touch their toes or mimic a basketball player slam dunking?
Ice castle adventure: Do you have an ice maker that churns out way too many cubes? Pour them into a large bowl and take them outside to a shaded area. Ask the kids to build something out of the slippery, cold blocks. They have to be quick, or their creations will melt right before their eyes. Take pictures to preserve the icy sculptures!
Is it too hot to be outside? You can also keep kids cool and entertained by staying indoors in the air conditioning and putting together a popcorn and movie party, hosting a summer-theme fashion show complete with sunglasses and silly hats or by playing together in the kitchen to make a special snack. Browse our recipes -- from milkshakes to muffins -- to find something everyone will enjoy!