Creamy half and half is a delicious addition to your morning mug of black coffee, but did you know it's also an excellent ingredient in homemade buttermilk, seasonal lattes, and flavorful teas? Absolutely! In this round-up of recipes featuring a2 Milk® Half and Half, you're sure to find a winning idea to add to your afternoon snack time or meal planning that aligns with your wellness journey so you can feel your best, naturally! Enjoy!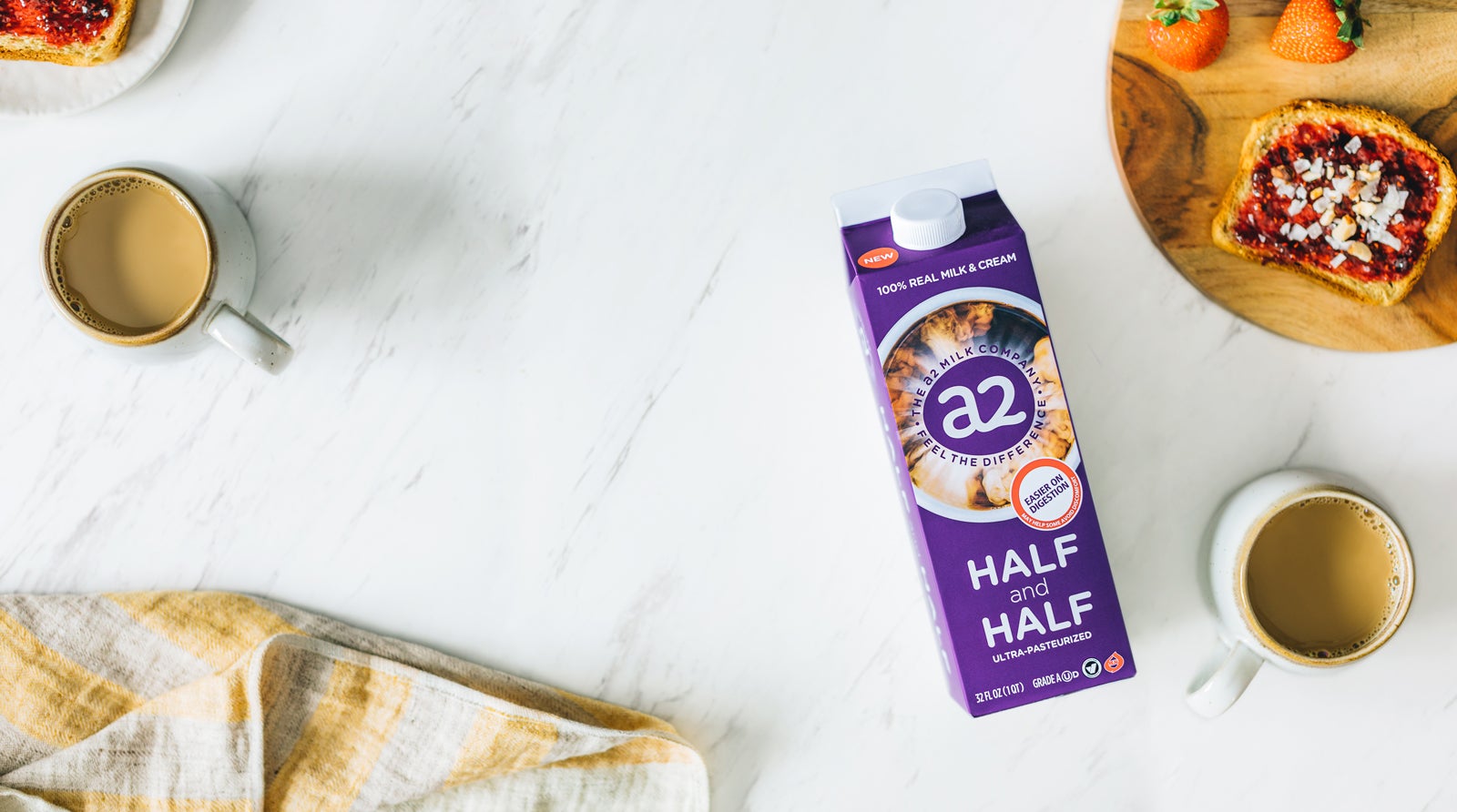 Veggie soft tacos
The star of this recipe is the zesty creamy cilantro lime sauce made with homemade buttermilk using a2 Milk® Half and Half. The tart lime juice, ground cumin, and fresh cilantro will have you craving these bean and veggie-loaded tacos for dinner often. As a bonus, the marinated bean salad filling only gets better as it sits, so the leftovers of these Veggie soft tacos are delicious!
Caramel apple latte
If you love everything about fall and find yourself craving the sweet goodness of brown sugar and apple cider any month of the year, this Caramel apple latte recipe might become your new morning go-to beverage. It comes together in a quick 10 minutes using pre-made strong hot coffee or a double shot of espresso and a2 Milk® Half and Half.
Matcha dalgona
Trying to consume more greens? This tea made of finely ground and powdered green tea leaves (known as matcha) is a protein-rich way to start your morning thanks to the addition of an egg white and a2 Milk® Half and Half. Warmed Matcha dalgona is served in a cozy 4 oz. glasses making it a quick breakfast treat or afternoon pick-me-up.
Cold brewed coffee with half and half
If you've been looking for the perfect Cold brewed coffee recipe, this is it. The robust medium roast coffee grounds are prepared in a French press and allowed to steep for 24 hours to achieve optimal flavor. We like to keep a pot of this going each day, so we always have some ready to serve over ice with a splash of a2 Milk® Half and Half.
Gingerbread latte
Get into the holiday season with this irresistible cinnamon-meets-molasses Gingerbread latte. Or, simply celebrate the weekend. We don't judge! Frothed a2 Milk® Fat Free Milk tops this spicy, but not overly sweet, latte featuring freshly brewed hot black coffee and creamy, cool a2 Milk® Half and Half to make the perfect sipping drink.
Creme brulee latte
If you're hosting a brunch, this sweetened coffee drink would be the perfect appetizer as guests gather and socialize, or could be served as part of dessert, alongside dense chocolate cake or crisp sugar cookies. The secret ingredient in these Creme brulee lattes is the homemade caramel sauce that combines a2 Milk® Half and Half with brown sugar, vanilla extract, and coconut oil. It's just like what your grandmother would make!
Snickerdoodle latte
Love cinnamon? This cookie-inspired coffee drink is the perfect evening treat. It can be made with regular or decaf coffee, so it won't interfere with your sleep routine. Are the kids begging for a sip? Make them a Snickerdoodle latte by swapping out the coffee for a2 Milk® Whole for a satisfying, warm bedtime snack.
If you'd like more culinary inspiration, or to simply spice up your morning coffee, check out our recipes for more Half and Half creaminess and other delicious treats from a2 Milk®. Enjoy!