With more children returning to in-person learning and daycares, the morning commute is back on the schedule. So, what's for breakfast? These back-to-school breakfast ideas are simple, quick, and best of all -- easy to manage in the car. Who says travel-friendly food can't be healthy and delicious too! Try some of these ideas for your kiddos and yourself on your next busy school morning to help you feel your best for the day ahead by nourishing your body with real foods.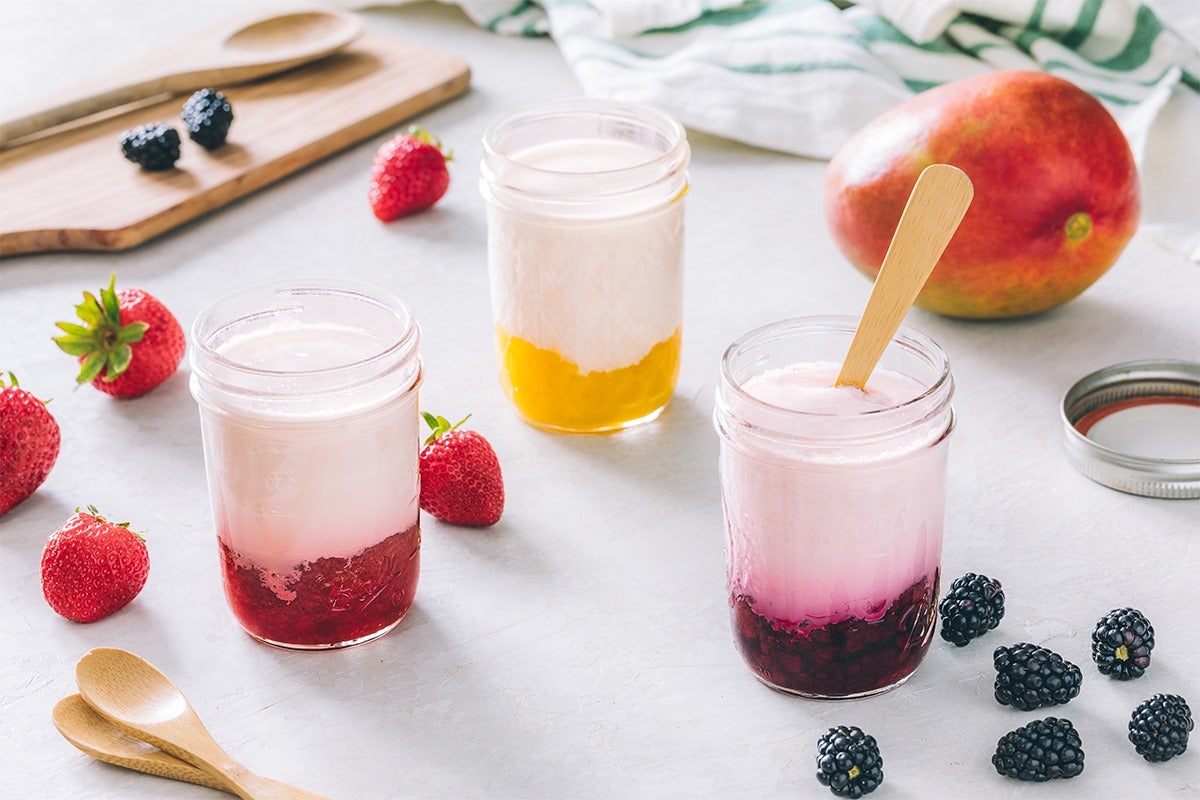 Chilled Breakfast Smoothies
A cold, sippable breakfast is the perfect way to kick yawns to the curb and get motivated for the day ahead. By blending protein-rich a2 Milk® Chocolate with banana, spinach, raw almond butter, and a few other ingredients, your child can sip on a Chocolate coconut almond smoothie that you can both feel good about. Or, go more colorful and fruity with a Berry smoothie featuring a2 Milk® Whole.
Tortilla Roll-Up Sandwiches
Crunchy toast can be a bit messy in the car, so if your child loves a morning PB&J or cheese sandwich, why not tuck the fav ingredients inside a soft whole-grain tortilla and roll it up? You can let the child eat it in a tube shape, or slice them into bite-size pinwheels that tuck easily into a reusable container for a grab-and-go breakfast in the car.
Creamy Meets Crunchy Parfaits
Layer up homemade yogurt (that you can make ahead on the weekend!) and granola in a small plastic travel cup, and you're good to go! Just add a spoon. Do you have a little one who isn't ready for granola yet? Try this recipe for Homemade yogurt with fruit on the bottom made from a2 Milk® Whole and a blend of their favorite berries. From strawberries and blueberries, to raspberries and blackberries, you have lots of options!
Homemade Granola Bars
If you want to know exactly what's going in your child's tummy (and yours as well!), make a batch of granola bars featuring grains, nuts and dried fruits to snack on in the mornings. This chewy-style bar recipe is easy to customize with your favorite add-ins and is sweetened with maple syrup, honey or agave instead of refined white sugar.
Classic Hard-Boiled Eggs
Finally, you can never go wrong with eggs for breakfast. To make them portable, go for the hard-boiled variety. These can also be made up in batches ahead of time, ready to grab-and-go for little hands. If you prefer extra flavor, toss the egg into a baggie with some fresh ground Himalayan sea salt, a favorite seasoning mix or some ground black pepper. Toss to coat the outside of the hard-boiled egg and then enjoy!
A Bonus for Parents: Easy Coffee Drinks
If you start your day with a big mug of java, why not make it a bit more special on those school-run mornings? We love to mix in a splash of delicious a2 Milk® Half and Half and add a sprinkle of ground cinnamon. Feeling extra creative? Try one of these Coffee-shop-style drinks you can whip up at home while the kids get dressed.
Back-to-school breakfasts that are nutritious, delicious, and easy to take along for the ride are possible! Need more inspiration? Browse these recipes.