We're all spending more time at home these days, so why not make it an extra cheery place to be? Brighten up your home with joyful fragrances, extra light, and refreshing colors to fully embrace the beauty of the winter season and create more smiles around the house.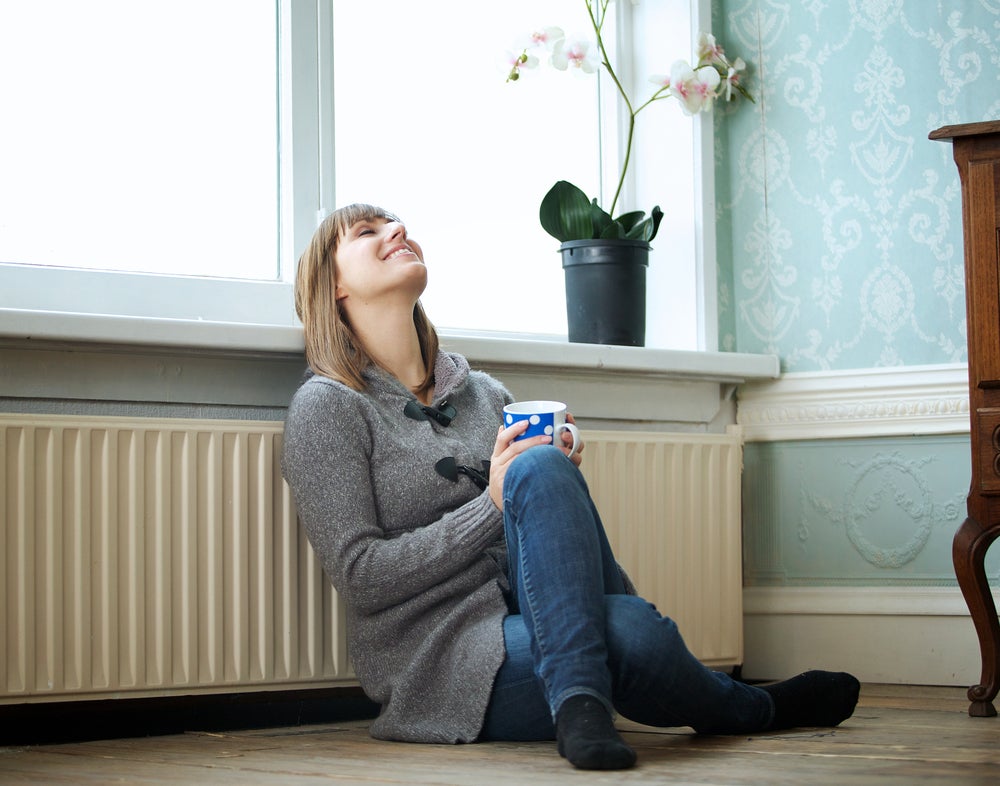 First, get into a positive mindset. What makes you happy? Sunshine on your face? Fresh cookies from the oven? A tidy living room? Then pair those happiness triggers with mindful choices you can make around the home. Here are five ideas to brighten up your home and winter mood.
Give your windows some TLC.
Open the curtains. Raise the shades. Let natural light fill your home during the daytime to brighten each room. You might notice the glass could use a cleaning and the sills a quick dusting. Then, look to your window coverings. Could the curtains be washed to remove dust and brighten the fabric? Or maybe it's time to shop for new window treatments, like sheers that allow light in while maintaining privacy from neighbors.
Make a sweet afternoon treat.
Crush that after lunch lull with a fun activity, like baking cookies, rolls or bars. Get the kids or your partner involved to make it a group activity, or measure the ingredients as part of a relaxing solo mindfulness moment. We think a fresh batch of these Cinnamon rolls by Heather Brooker paired with a tall glass of a2 Milk® are sure to brighten your day. Or, keep things simple and whip up a Chocolate coconut almond smoothie in the blender.
Paint the walls a light color.
Maybe you're thinking about spring cleaning or updating projects to tackle around the house. Why not do them now? Giving your main living spaces a fresh coat of eggshell, light gray or cotton white paint will reflect more light around the room than a darker color. If that's too big of a project, perhaps you get in on the accent wall trend. Paint just one wall in the room a light, bright color like seafoam green or daisy yellow to boost your mood.
Turn on the interior home lights.
Yes, during the daytime, use floor lamps, wall sconces and other artificial lighting sources to add a warm glow to the interior of your home. These can be especially helpful on overcast days. Simply walking into a bright room instantly perks you up and makes the space feel more vibrant. If you enjoy candles, add a few to your decor to create more warmth and brightness. Choose battery-operated candles if you have small children and curious pets at home.
Enjoy the daylight each day.
Can you rearrange the furniture to create a sitting area near a large window? If so, do that and make it a point to take in the daylight first thing each morning as you sip your morning coffee. If you live in a temperate climate and it's enjoyable to spend time outdoors in the winter, do that. Eat lunch on a patio. Help the kids with homework on the deck. Don't forget to use your outdoor spaces on days when the sun is shining, and you can relax comfortably -- even if it means snuggling into a cozy sweater.
We hope you're finding ways to enjoy the winter season. One of our favorite past times is spending more time in the kitchen discovering new recipes to share with friends and family. Browse our recipes for snack, beverage and meal ideas to add to your menu this week. Enjoy!