You've got 15 minutes before the kids jump on the school bus. What's for breakfast? Waffles take too long. And, dry cereal has become boooooring, according to your seven-year-old. If you're drawing a blank, let a few of these quick breakfast ideas fuel your thoughts.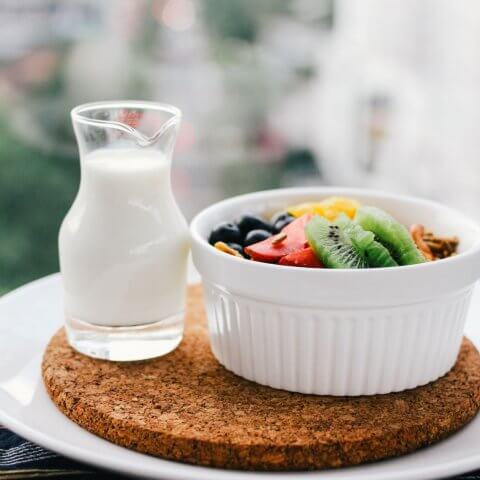 When you don't have time to spare, you can still be sure your kids have a nutritious breakfast before they start the school day. The secret is to prep the meal ahead of time and have it ready to grab, eat, and go in the morning. Here are a few of our favorites!
Homemade Yogurt and Granola: Do you love to batch cook on the weekend? Make up some homemade yogurt and granola, then use it to quickly layer a fruit and yogurt parfait for weekday breakfasts. To save on time, use pre-washed fresh fruits like blueberries, grapes, and raspberries or canned tropical fruit blends. Plan to have a few fruit options on hand so you can switch up the flavor of the parfait every other morning!
Hard-Boiled Eggs: We love to grab a chilled hard-boiled egg from the fridge on busy mornings and your kids will too. Have the eggs peeled and stored in a resealable container that the kids can open easily. Or, buy the eggs already prepped and sealed in individual packets that they can open and eat on the ride to school. Quick and easy!
Rich & Nutritious Smoothies: If your kids like to keep breakfast light, smoothies could become your go-to. When made with a2 Milk®, a smoothie will keep your little one full for hours! Try the Strawberry Rhubarb Smoothie or Citrus Smoothie to tempt their palates. You can double or triple these recipes to have smoothies ready several days ahead.
Pancake Sandwiches: Whether you use frozen pancakes warmed in the toaster or leftover homemade pancakes, the kids will be excited to see them served up in sandwich form for breakfast. Experiment with peanut butter and fruit jelly as a filling. Or, try banana slices and sunflower seed butter. Both pack a protein punch to keep hungry kiddos satiated until lunchtime.
Bread and Fruit: Don't forget that simple hand-held foods work great for breakfast too. Try a bran muffin paired with a banana. Or, maybe an English muffin topped with almond butter and a plum on the side. For the little ones, choose mini blueberry bagels smeared with strawberry jam with apple slices in a baggie ready-to-go.
There's no reason to feel rushed or confused about weekday breakfasts. With a little forward thinking and prep, you can keep your kids happy and full this school year! Use this handy store finder to locate the closest store with a2 Milk® in your area.