In this post, we'd like to introduce the newest arrival to the a2 Milk® family, HERSHEY'S a2 Milk®! We are a team of proud mamas and papas over here. As kids, chocolate milk was the coveted carton reserved for those with extra lunch money. But not anymore. With our newest edition, you can have chocolate milk when and how you want. To celebrate, we're dropping 5 hot (and cold) ways to enjoy chocolate milk.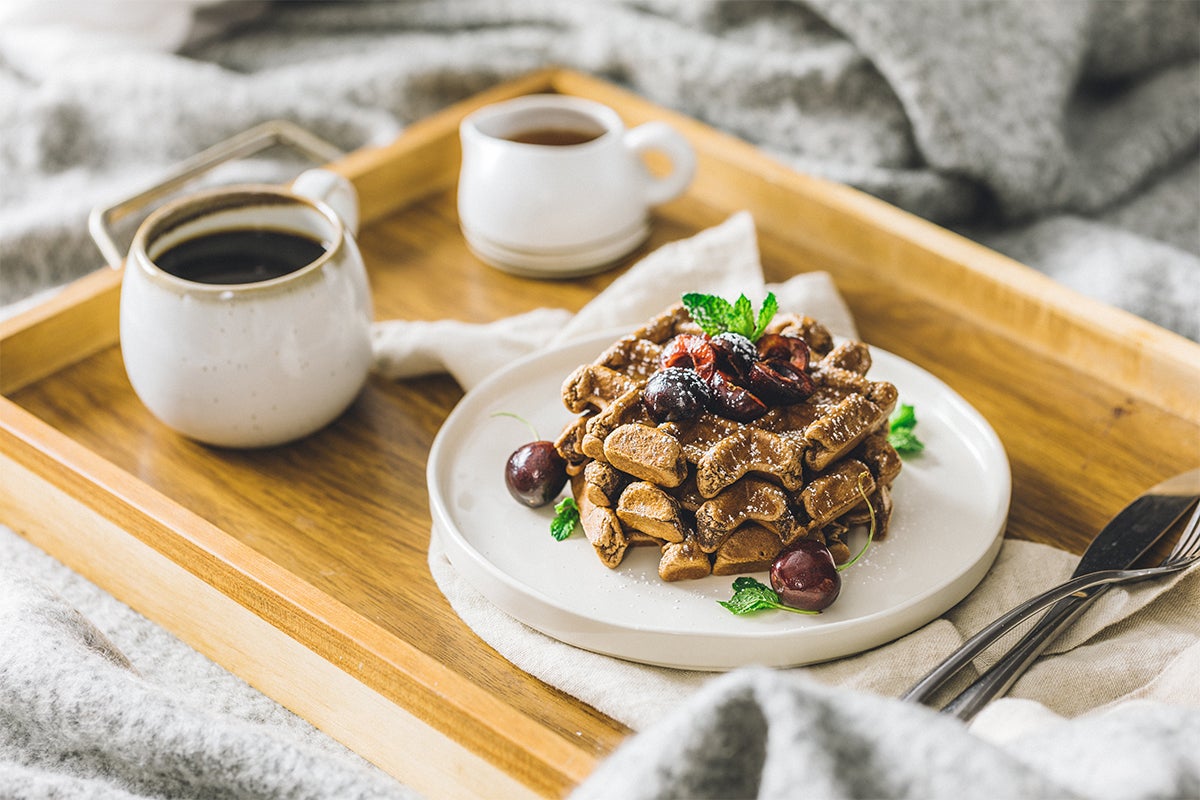 1. Aromatic Pancakes & Waffles
Do you ever wake up some days wishing for simpler times? Days when the smell of waffles and pancakes cooking in the kitchen was the highlight of your day? Well, you can experience that childlike joy again with these pancakes! But these aren't just any ole flapjacks, they've got chocolate milk!
Simply, replace the a2 Milk® Whole in the recipes below with rich HERSHEY'S a2 Milk®. The chocolate milk will give them a nice hint of chocolate but feel free to make them as decadent as you want with extra chocolate chips and/or cocoa powder.
The only question left to ask is: are you team waffles or team pancakes?
2. Not-So-Indulgent Smoothies
Chocolate milk is a great way to spice up a protein shake. Milk is packed with protein and nutrition, making it a great post-workout drink. And a chocolate milk smoothie is a nice treat to look forward to after for those of us that prefer the 'post' part of the workout.
Chocolate pairs well with sweet fruits like strawberries and bananas. It also goes well with the tartness of raspberries. Adding chocolate milk to a frozen fruit smoothie is a great way to feel like you're indulging in a classic milkshake but with more nutrients.
Hint: Add instant coffee to your smoothie and send your taste buds to creamy nirvana. Or make your smoothie a little thicker and enjoy it in a bowl with homemade Cranberry walnut granola. Follow the recipes below for some yummy ideas. Remember to replace the whole milk with HERSHEY'S a2 Milk®.
3. Any Season Hot Chocolate
Who says you can only enjoy hot chocolate during the cold months? Crank up that AC and indulge in your own winter wonderland. Below you'll find 3 delicious hot chocolate options. Each features a spin on the classic that adults and kiddos will adore.
4. Coffee for Grownups
If you love coffee as much as we do, you'll love trying these barista-worthy brews at home. Chocolate milk gives them so much mocha flavor that you'll forget you didn't have to stand in line for it. For recipes with a2 Milk® Half and Half, you can substitute chocolate milk. Remember, replacing Half and Half with milk will reduce the creaminess of your recipe.
Read our article What Is Whole Milk to discover why.
5. Life-Is-Short Dessert
Dessert doesn't always have to wait till the late evening. First up is a new way to enjoy cookies and milk - in a popsicle. You'll never be able to have just one of these yummy Cookies and Milk pops. They're made with iconic chocolate chip cookies, and you guessed it, HERSHEY'S a2 Milk®.
Next, you have to try this Chocolate blood orange tart. Blood oranges are sweeter than navel oranges and blend heavenly on the pallet with chocolate. This is one dessert we can recommend you eat before dinner. Life is short, right?
Do What Indulges You
We here at team a2 Milk® are all for doing what makes you, more you. And that starts with nourishing your body, mind, and spirit. So, if adding a little chocolate makes your life more playful, that's a movement we can get behind. Add a little HERSHEY'S a2 Milk® to your life wherever you find a2 Milk®.