Whether you're planning costumes for a local Halloween trunk-or-treat event or simply want to get dressed up for your family's annual pumpkin decorating party, let's get crafty. Here are some classic, clever costumes to make at home. The best part? They can work for any age -- from adults to tots -- so let's make this holiday season as memorable as possible!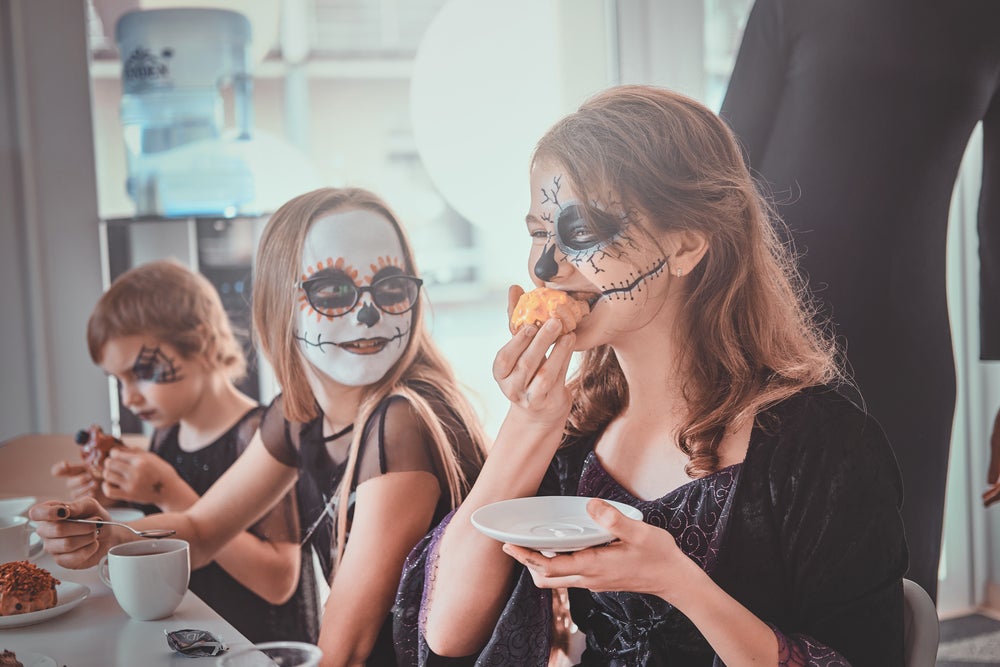 Turn the Prep into a Party
Before we get started, keep the crafters and those dressing up fueled with delicious holiday snacks packed with protein to keep their energy high! Here's a list of our favorite chocolate treats featuring a2 Milk®. Additional ideas include a bowl of mixed nuts and popcorn, apple slices dipped in peanut butter, or celery sticks filled with Kid friendly sweet potato hummus. And of course, don't forget a few beverages! Strawberry boba tea, autumn mocktails, or a Matcha Dalgona Frankenstein Drink are sure to hit the spot.
Our Favorite Ghost Characters
As part of our healthy lifestyles, we love the idea of upcycling and reusing things around the home to make the perfect Halloween costume. Give your linen closet a quick cleaning to purge old bed sheets or towels. These can quickly turn into the colorful ghosts from the Pac-Man game. Or, go with crisp white sheets that you never use to create a curious Casper.
Simply drape the person in the sheet or towel and use a marker to note where to cut eye holes. Remove the sheet, create the eyes and slip back into the simple costume. Now practice some wooooo-ing sounds paired with a floaty, swaying walk. Hello, ghost!
The Best Cow Ever, Mootilda
Love cows? We do too! So, it's no surprise that we think the perfect Halloween costume would be showing off our mascot Mootilda's signature black and white spots as a cute little cow. This costume idea works for one or your whole herd.
To create the look, slip into a white sweatshirt and jogging pants set. Then, carefully glue or tape on a few random black spots cut out of felt fabric or construction paper. For Mootilda's adorable pink ears, you can use a headband. Trim two pink triangles out of construction paper and tape them upright on the headband, and you'll be looking moo-valous!
A Perfectly Wrapped Mummy
There's nothing scarier than a mummy that's come back to life after being wrapped up for a few thousand years. This costume works well for a fidgety child (because ripped wrap enhances the look!) or could be used to dress up an entire family that wants to look creepy.
Pick up some inexpensive toilet paper or use surgical wound wrap for the mummy's bandages. Then, wrap them up! You can use safety pins or tape to keep the bandages in place. Be sure to leave openings around the eyes, ears, nose, and mouth. The wrapping process takes a few minutes, so you may have to appease your mummy with a snack, like this Chocolate coconut almond smoothie fitted with a long straw!
Delicious Cookies and Milk
No kid can resist a plate of warm cookies from the oven paired with a tall chilled glass of a2 Milk®. So, why not dress up as this favorite combo? It's a perfect idea for siblings, a couple, or even a group of children that go together like -- cookies and milk!
For the milk, have the person dress in a navy blue top and blue jeans to match the colorful style of a carton of a2 Milk® 2% Reduced Fat. Then use scissors to cut the logo off a carton of a2 Milk® to attach to the front of the shirt. Cut two circles out of a tan-colored pizza box for the cookie, then decorate the plain sides with small black crafting puff balls to look like chocolate chips. Attach one circle to the front of their shirt and one to the back, using duct tape. They're an instant chocolate chip cookie!
If you'd like more ideas for Halloween party snacks and drinks, browse these recipes for inspiration. Here's to a safe, healthy, festive Halloween season ahead for you and your family!